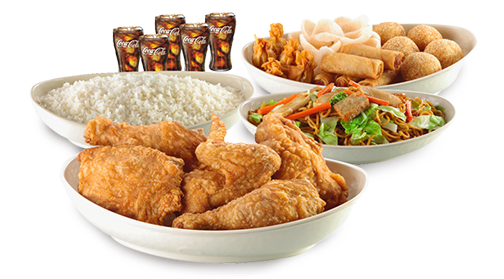 Order Chowking Delivery in the Philippines
Chowking, an Asian restaurant that is popular worldwide for its amazing fast food style service. This restaurant combines great flavors of Asian cuisine with the "quick to serve and quick to eat" western style making it a favorite of many. Whether it is delicious noodles or fried rice, Chowking has got it all. One can also order noodle soups, dim sum, family meals and popular Filipino dessert Halo-Halo. If you are craving for tasty Chowking meals or want to try the world famous dishes of this restaurant, just open foodpanda website or smartphone app and order them online. Yes, you can now browse Chowking menu and order delivery whenever you want. You can order lunch delivery at your work or order special dinner for your family. foodpanda will bring freshly prepared meals right to your doorstep. Chowking delivery is just few clicks away with our online app which you can download for iOS or Android. To make it even easier, you can choose to make online payment service and pay cash on delivery. foodpanda is available in all major cities of Philippines.
Delicious fast food right to your door with Chowking Delivery
The Chowking delivery service is one of the most popular around, offering freshly made and delicious food delivered straight to your door. Offering friendly service and a menu that is bursting with traditional delicacies and contemporary delights, Chowking continues to grow in popularity. Offering the customer a balance between classic Chinese cooking and a western fast food style, when you visit Chowking you really do get the best of both worlds. Thanks to foodpanda you can now enjoy the excellent Chowking Delivery service for yourself. With its fast and reliable delivery drivers who offer great service with a smile, it has never been easier to enjoy your favourite Chinese dishes in the comfort of your own home. So get online and browse the extensive Chowking menu, we promise that you will not be disappointed.
The Chowking Menu is packed full of wonderful traditional dishes
One of the most impressive things about this fabulous Chinese restaurant is the incredible Chowking delivery. Delivery is always fast, efficient and friendly and the company prides itself on delivering meals on time and ready to eat, no matter how buys things get. What's more, the menu is so extensive that there is bound to be something delicious for you to enjoy. Why not try the Chinese style Pork chop or the superb sweet and sour fish. If you prefer soups or noodles then the Beef Wonton or Pancit Platter should be right up your street. However, most people find that the best way to enjoy everything the restaurant has to offer is to try one of the enormously popular set menu, banquet deals. Packed full of chicken, Chop suey, rice, pork, wontons and appetisers it's a great way to have a taste of everything whilst sharing the meal with your family. There is even a selection of fantastic deserts on offer with ice cream and traditional halo halo, a custard flan drizzled with caramel, for you to enjoy. Whatever you decide to order, the freshly prepared food will not disappoint and with so much choice, it is a sure thing that you will be coming back to the Chow King repeatedly.